First of all let's star by defining what is and what not an electric bicycle is. As its name says, it is a bike that has electric components on it. It is neither a motorcycle nor a regular bicycle. But if you add to a regular bicycle a motor, a battery and an electric controller that allows you to activate and regulate the power and electric assistance, there you have the basics of an electric bicycle.
¿What is an electric bicycle?
An electric bicycle works like a regular bike: you can pedal and you can handle it. It is closer to a regular bicycle than to a motorcycle, so we can say that it is an easier regular bike, which works powered by electric components that increase human power.
There are many different kinds of electric bikes attending to a variety of facts such as:
Sizes and styles: You have to choose those that fit your needs, comfort and personal style and that is why you can find many different sizes –frame sizes, ride sizes, etc– and styles.
Motor: Some electric bicycles have an external motor and some other have it internal and it can be located in different parts of the bike depending on the model.
Power: Each motor has a different power that can be from 200W to 700W. Depending on your needs you will have to consider which power is the best option for you.
Battery and controller: Depending on the model of the bike it will have a type of battery and a different controller, which activates and let you control the assistance of the bike.
Utilities of an electric bicycle
The utilities of an electric bike are the same as the ones of a regular bike. Some people use them for getting in shape. Electric bicycles are a very good option for old people who want to get back in shape because they give the chance of making some exercise with motor assistance in case of getting tired. They are a good way to gain vitality and strength.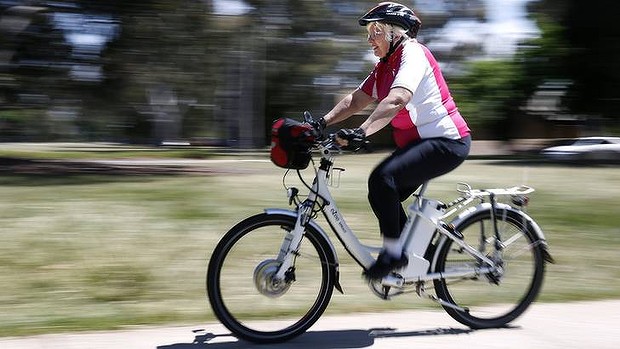 Some people use them to get to work. Specially young adults, who have seen in electric bikes another way of getting to work. The pros about using an electric commuter bicycle are many: You save money on gas or public transit; it is ecofriendly, so you contribute to reduce carbon emissions and pollution; you get in shape by making daily exercise and, the most important thing, you don't get to work neither sweaty nor tired.
Also, electric bicycles can be used for fun. Some people, mostly young, just want bikes for leisure so that they can get to any place in an easy way, without polluting and with the chance of pedaling or not due to the motor assistance that these bikes offer.
¿Are electric bicycles dangerous?
Maybe because they have a motor, most of the people think that electric bicycles are more dangerous than regular bikes. But it isn't true. For instance, electric bikes are safer than regular bikes. The power of the motor of electric bicycles will always keep the bike at a safe speed. In addition to this speed limit, electric bicycles are more stable than regular bikes because of their larger frames, suspension and their extra weight.
¿And if it rains? There is no problem because electric bikes are ready for any riding conditions. It doesn't matter if it is raining because these bikes are waterproofed so you just have to remember to wear a water coat.
Another common question are the sizes of the bikes in order to keep it at home or work. You don't have to worry much about this since folding bikes are the best way to provide storage and portability so that they become small enough to fit in the trunk of your car, the public transit, your closet, or even under the desk of your office.